Hello Harvester Families! 
Wishing you a wonderful Thanksgiving Holiday and sending you the details of what's going on in Harvester Kidz and how to get your family involved!  
TOY DRIVE & BABY BOTTLE COLLECTION 
Bring your items as a gift on December 6th for TOGETHER WEDNESDAY!
(Or drop in the specially marked boxes in the Atrium by Sunday, December 10).
CHRISTMAS SCHEDULE IN HARVESTER KIDZ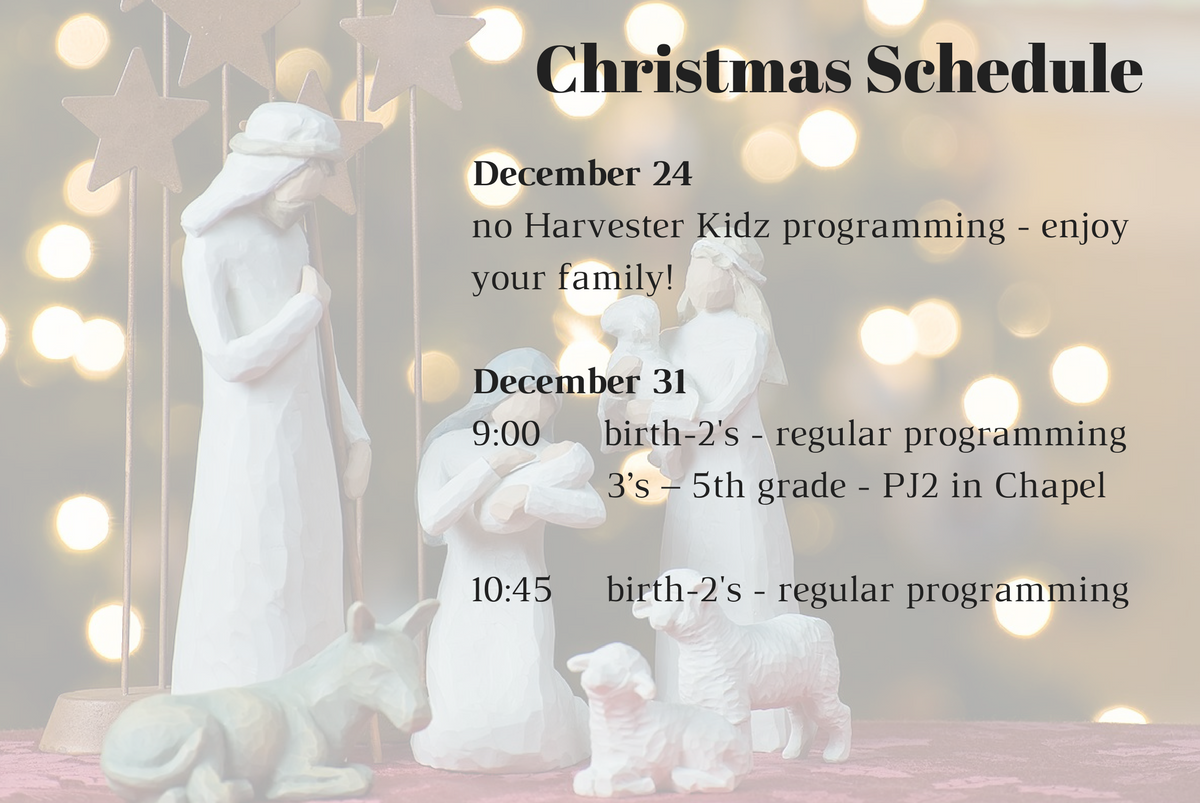 FAMILY ADVENT CALENDAR
It's the most wonderful time of the year . . . and the busiest. We've got a great resource attached to this post to help your family stay focused on the meaning of the season.  This year's calendar provides simple ideas to connect with your family in celebrating the true meaning of Christmas. Choose a few of the activities, or commit to doing one together every day until Christmas. For example, the first challenge is to do someone's chore in secret, and later to write kind messages with chalk on the sidewalk! Okay, some activities are more fun than others, but generosity isn't always about big gestures. Sometimes the smallest things can have great meaning.  We'd love to hear your stories of how this is positively impacting your family!  Just email kimberly.gingrich@fbch.com or post on the FBCH FAMILIES Facebook page. 

SHUFFLE SERVE
I know you're wondering to the depths of your core what in the world is, "SHUFFLE SERVE"?  Well, let me "es-splain" 
SHUFFLE SERVE is a way for EVERY PARENT to offer a helping hand on Sunday mornings in Harvester Kidz. 
We have an awesome team of DEDICATED people who serve EVERY WEEK in Harvester Kidz, but sometimes those awesome people have to be out of town, or they get sick, so, here's your opportunity to step up and serve!
When you sign up for SHUFFLE SERVE, you are committing to ONE SUNDAY a month.  On your assigned Sunday, report to the designated SHUFFLE SERVE CHECK IN AREA where you will receive your assignment for the day.  You can let us know if you want to SHUFFLESERVE in PRESCHOOL or ELEMENTARY, or BOTH.  If we have a need that Sunday, you will step in to fill the void.  If we have everything covered, you can either stay to give even more support or be dismissed for that Sunday.
SOUND INTERESTING?  Email: kimberly.gingrich@fbch.com