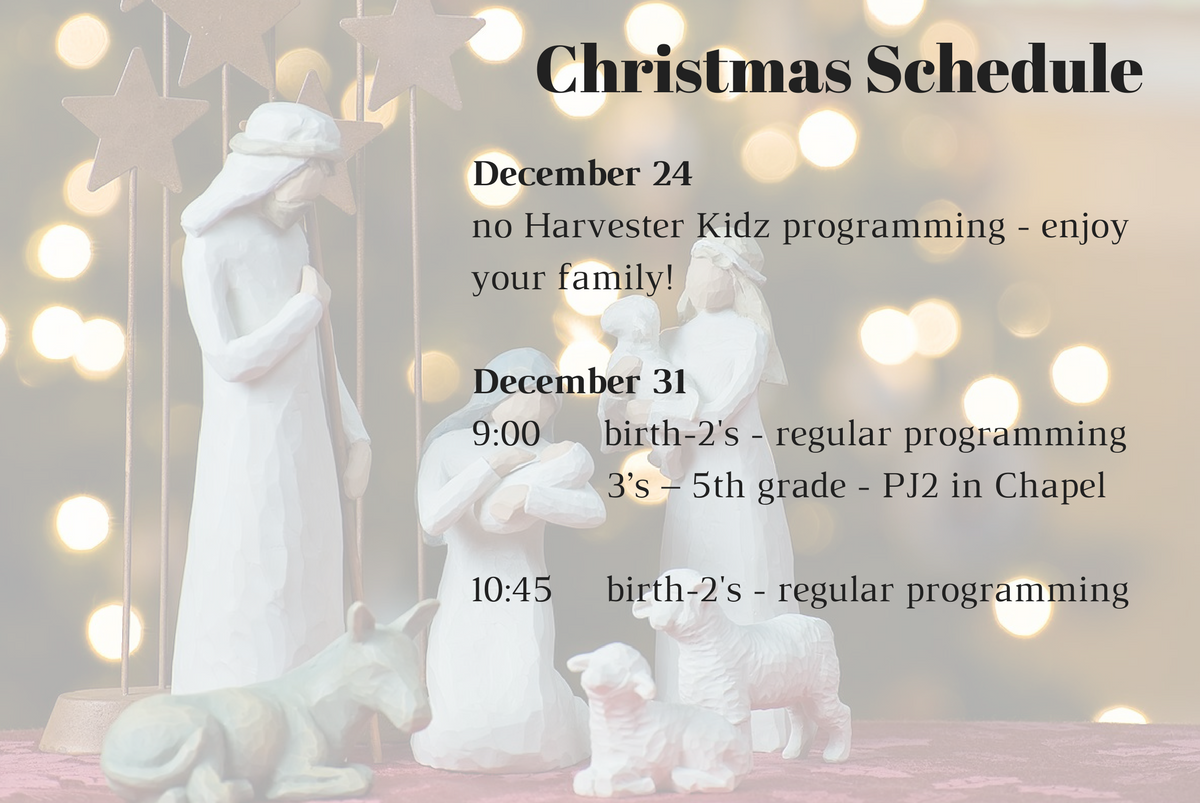 FAMILY ADVENT CALENDAR
  It's the most wonderful time of the year . . . and the busiest. We've got a great resource attached to this email to help your family stay focused on the meaning of the season.  This year's calendar provides simple ideas to connect with your family in celebrating the true meaning of Christmas. Choose a few of the activities, or commit to doing one together every day until Christmas. For example, the first challenge is to do someone's chore in secret, and later to write kind messages with chalk on the sidewalk! Okay, some activities are more fun than others, but generosity isn't always about big gestures. Sometimes the smallest things can have great meaning.  We'd love to hear your stories of how this is positively impacting your family!  Just email kimberly.gingrich@fbch.com or post on your Facebook Page and tag Julie Sullivan, Rachell Colebank or other ministry leader!  We'll then post to FBCH FAMILIES Facebook page. 
DECEMBER 31, 2018 in Harvester Kidz!
9:00 AM:   Ages 3 to 5th grade in the Chapel
                  Birth to 2 in regular classroom.
10:45 AM:  Birth to 2 in regular classrooms
                   No programming for ages 3 to 5th Grade (attend worship with parents)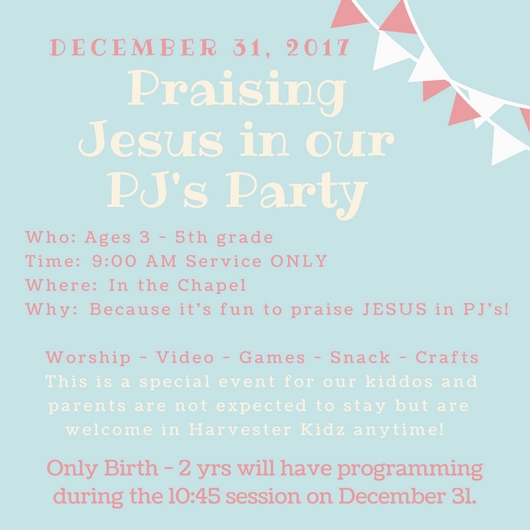 SHUFFLE SERVE
I know you're wondering to the depths of your core what in the world is, "SHUFFLE SERVE"?  Well, let me "es-splain"  SHUFFLE SERVE is a way for EVERY PARENT to offer a helping hand on Sunday mornings in Harvester Kidz if they cannot commit to every Sunday. 
We have an awesome team of DEDICATED people who serve EVERY WEEK in Harvester Kidz, but sometimes those awesome people have to be out of town, or they get sick, so . . . here's your opportunity to step up and serve!
When you sign up for SHUFFLE SERVE, you are committing to ONE SUNDAY a month.  On your assigned Sunday, report to the designated SHUFFLE SERVE CHECK IN AREA where you will receive your assignment for the day.  You can let us know if you want to SHUFFLE SERVE in PRESCHOOL or ELEMENTARY, or BOTH.  If we have a need that Sunday, you will step in to fill the void.  If we have everything covered, you can either stay to give even more support, or be dismissed for that Sunday.
SOUND INTERESTING?  Email: kimberly.gingrich@fbch.com
OTHER SERVING OPPORTUNITIES

4th and 5th Grade Small Groups need leaders is the big need @ 10:45 in Harvester Kidz (contact Rachell Colebank)
First Impressions is looking for people to serve @ 10:45 in Harvester Kidz (contact Yvonne Borgna)

There's always a place for you to serve in Preschool (contact Julie Sullivan)